Classic Series 12-Gauge Chain Link
Modular Dog Kennels
Our Classic Chain Link Series Kennels Feature:
12 gauge diamond chain link
1" extended legs make kennel cleaning easy & prevent debris from hiding in unreachable places
Easy assembly with modular gate and wall panels
Steel door latch which is virtually unopenable by your pet
Superior door hinge design stays firmly in place, even after years of use
No Longer Available
Classic Series Modular Panel and Gate Features:
Our Classic Series kennels are composed of modular wall and gate panels. Most basic configurations consist of one gate panel and a series of wall panels, although the configuration options are nearly endless. Each panel connects to its adjacent panel in just minutes using 2 sturdy steel clamps and nothing more than a simple wrench. The panels can be disassembled, moved, and reassembled in the same or a different configuration at any time. Adding on to a modular kennel is simple too - just buy more panels. Modular kennels are the ultimate in versatility, expandability, and cost-effectiveness.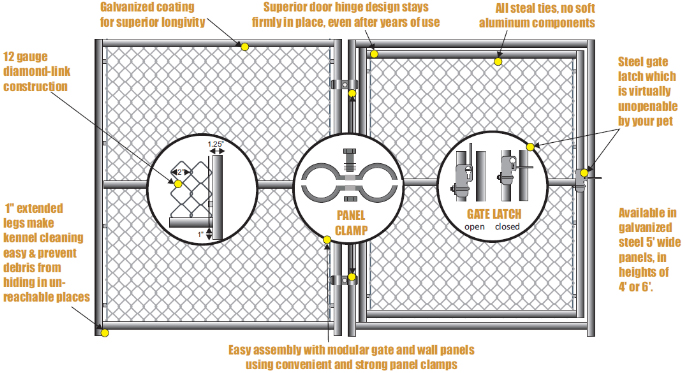 Available Accessories for Classic Series Kennels:
Looking for a custom size or shape dog kennel?
Call us toll free at 1-877-374-2695.