Hound Heater Deluxe Dog House Heater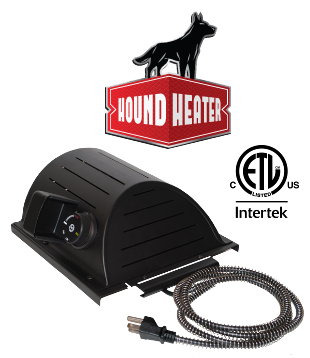 Currently
Out of Stock
ETL certified and thermostatically controlled for the safety and comfort of your dog.
The Hound Heater Deluxe is the only safety-certified purpose-built dog house heater! Thermostatically-controlled, you simply set the desired temperature and the heater will keep your pet warm throughout the winter. Will not over-heat smaller houses. Powered by a replaceable, ultra-reliable, extremely long life (50,000+ hour) wire resistance element.
Features:
thermostat for precise temperature control and efficiency
100,000 Cycle Life Thermostat, simply set the temperature and forget it!
Estimated Temperature Settings:

Low to Medium = Approximately 32°F to 50°F
Medium to High = Approximately 50°F to 80°F

made of 16 gauge powder-coated steel
Internal heat shield allows your pet to touch the lower half without any danger of getting burned
internal and external heater shield and top heat deflector
compact size, only 10.5"(h) X 10"(w) X 4.5"(d)
110 volt, chew-resistant 7' power cord (heavy duty, stainless steel spring covers the entire length of the cord)
easy installation
ETL certified to meet U.S. and Canadian electrical safety certifications!
1 year manufacturer's warranty

The Hound Heater Deluxe is designed for pet houses up to 32 cubic feet. It will work best of houses with a good layer of foam insulation and tight, non-drafty construction. A flap style door should be considered a minimum. The Hound Heater Deluxe is compatible with the following Northland Climate Master Dog Houses:

Plus models are recommended for greater energy efficiency, performance, and pet comfort.
We do not presently recommend using the Hound Heater with our Climate Master cat houses or our Small and Medium dog houses as the Hound Heater will take up too much of the usable space.


The Hound Heater Deluxe is ETL certified to comply with U.S. and Canadian electrical safety requirements:

USA: UL-2021 - Fixed and Location-Dedicated Electric Room Heaters
Canada: CAN/CSA-C22.2 No. 46 - Electric Air-Heaters

Beware of other dog house heaters that do not have the required safety certifications!