All Dog Houses
>
Climate Master Insulated Dog Houses
> Extra Large
Extra Large Insulated Dog House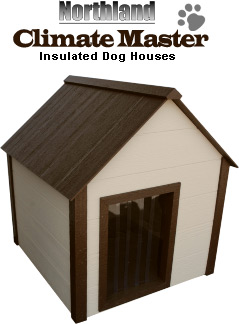 Climate Master Extra Large Dog House

Our Price:

US

$

949.95

Temporarily Unavailable

4.5

out of 5 stars (9

reviews)

Review this product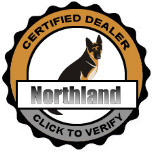 designed for very large dog breeds, this extra large insulated dog house features PanelAbode™ Engineered Panel Technology, Slide-Lock™ removable roof system, and more!
Our extra large insulated dog house is designed specifically for large dog breeds weighing up to about 220 lbs, including larger Alaskan Malamutes, large male Rottweilers, most Great Pyrenees, most Saint Bernards, most Bullmastiffs, and other similar-sized dogs.* Like all of our Climate Master™ Series insulated dog houses, this house features our PanelAbode™ laminated engineered panel technology, a thick layer of true foam insulation, our Slide-Lock™ removable roof system, and a host of other popular features for the ultimate comfort and protection of your pet.
Our engineered panel construction is superior to plastic houses as well as traditional cedar, pine, fir, and plywood dog houses. Climate Master™ dog houses are extremely resistant to moisture and insects, are stronger and more scratch and dent resistant, and far less likely to warp and/or crack than competitors' materials.
* Breed and weight recommendations for dog houses are estimates only. As dogs come in many different shapes and sizes, we recommend you use our sizing chart to ensure you are purchasing the correct house for your dog.


Specifications
Recommended For
Large to Very Large Dogs (See Sizing Guide)*
External Dimensions
44 3/4" Width x 47" Depth x 49 1/4" Height
Internal Dimensions
36 1/2" Width x 38" Depth x 43 1/4" Height
Door Type
Premium Vinyl Flap (multi-slat)
Door Size
16 1/2" Wide x 23 1/2" High
Roof / Base Insulation
1 1/2"
Wall Insulation
1 1/2"
Weight
160 lbs
Part #
CM-XL
UPC
760537309495
Extra Large Dog House Features:
Panel-Abode™ Engineered Panel System - simulated rough-sawn cedar finish - stronger, more durable and more dimensionally-stable than traditional cedar dog houses, with superior scratch, dent, warp, moisture, and insect resistance!
Superior Insulation - We use true foam insulation up to 1 1/2 inches thick - no gimmicks, and we fully insulate the floor, all 4 walls, and the roof panels unlike many competitors
Slide-Lock™ True Removable Roof - remove the roof panels in seconds without any tools required for easy cleaning and puppy observation
Pre-Finished / Easy Assembly - requires less maintenance and comes completely finished ready for assembly in less than 10 minutes! - cedar houses require sealing or staining to prevent discoloration and weathering
Vented Ridge Cap - provides ventilation and allows heat to escape in summer
Raised Feet - prevent base from scratching finished deck surfaces, provide air circulation, & protect membrane on base of house
Clear Vinyl Flap Doors - to protect your pet from the elements, we use the same heavy duty vinyl flap material used in refrigerated buildings - the clear vinyl allows light to enter the house for your pet's comfort
Offset Door - provides a larger windbreak and area out of the direct sun - a centered door increases exposure to foul weather and direct sunlight
Roof Pitch and Overhang - our steeper roof pitch and larger overhang sheds rain and snow better than competitor's models - roofline slopes away from door to prevent rain from dripping on your pet
Climate Master Extra Large Dog House Reviews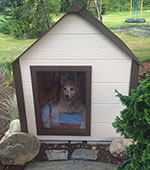 Just wanted to let you know we had no problem putting our doghouse together. Our 13 year old husky/golden (Charley) seems to like it just fine. We first put a layer of gravel down and then some blue stone. My 4 year old grand daughter thought Grandpa built her a play house:) Thank you again for such great service and a very nice dog house. - Tina

---
Other Climate Master Pet Houses Reviews


Super easy to put together. Quite small but is great for our rabbit enclosure! Keeps the bunnies nice and dry out of the rain. - Randi


Very well made. Easy to put together. Delivery was right on time. - margaret


It's very sturdy, quite well made except for the plastic strips, they are stapled on and my dogs pulled them off the first day. - Shiloa


Easy to put together - Bobbi Jo


Love it - Brian


Easy to assemble, a little smaller than expected. Seems sturdy. Looks great! - Alayna


A good size for our Husky. For the most part it went together well. Some misaligned holes but nothing that couldn't be fixed with a drill. The feature of the removable roof for cleaning is a bonus. Had to remove the flaps as out dog was skittish about entering. - Kimberly


Very well designed and built pet house. A little smaller than expected and a bit expensive. That said, great product. - Jacob






Click here to learn more about
Climate Master™ Series dog houses,
including other sizes