PlexiDor Dog Door Warranty & Guarantee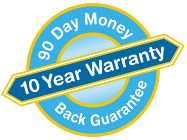 Our Unconditional 90 day Satisfaction Guarantee
You must be completely satisfied with your PlexiDor.
If not, simply call us toll free at 1-877-374-2695 to arrange to return it for a full refund minus shipping.


PlexiDor 10 Year Limited Warranty
PlexiDors are designed for years of trouble-free service when properly installed and maintained. If any manufacture defect, malfunction or failure occurs within five years from the date of purchase, we will replace the defective part free of charge. Labor is not included in the warranty.
The recommended maintainance is three drops of 3in1 oil on the springs and pivot points annually.
This warranty is void if the PlexiDor has, in our opinion, been incorrectly installed or damaged due to misuse or abuse or lack of reasonable care, or if repairs or alterations have been made by unauthorized persons.
This warranty does not cover accidental damage, or consquential damage to property or animals.