All Cat Houses
> Climate Master PLUS Insulated Cat Houses
Northland Climate Master™ Plus Insulated
Outdoor Cat House
featuring true foam insulation, PanelAbode™ Engineered Panel Technology, truly removable roof, and premium all-weather cat house door
Our unique combination of modern materials and classic design create the most technically-advanced cat house on the market today - warmer in the winter, cooler in the summer, more resistant to moisture and insects, easier to assemble and maintain, and fantastic value!
Each Climate Master Plus™ house features our patent-pending PanelAbode™ Laminated Engineered Panel System with simulated rough-sawn cedar finish. This technology makes our houses more durable and dimensionally-stable than traditional western red cedar dog houses, with superior scratch, dent, warp, moisture, and insect resistance. Our premium houses also require less maintenance and come completely finished ready for assembly in less than 10 minutes!
Climate Master Plus™ Series cat houses also feature the industry's most advanced all-weather cat house door, featuring heavy-duty color-matched powder-coated aluminum frame, weather seals, shatter resistant clear acrylic door panels, and lock. The cat door is manufactured in the USA and backed by a 90 day satisfaction guarantee and 5 year warranty! This feature distinguishes the Climate Master™ Plus Series from the Climate Master™ Series cat houses.
Of course, you can also expect all the premium features you'd find in any quality cat house including raised feet, and vented ridge cap. All of our cat houses also feature our patent-pending Slide-Lock™ removable roof system so you can quickly remove the roof (no tools necessary!) for cleaning, kittn observation, etc.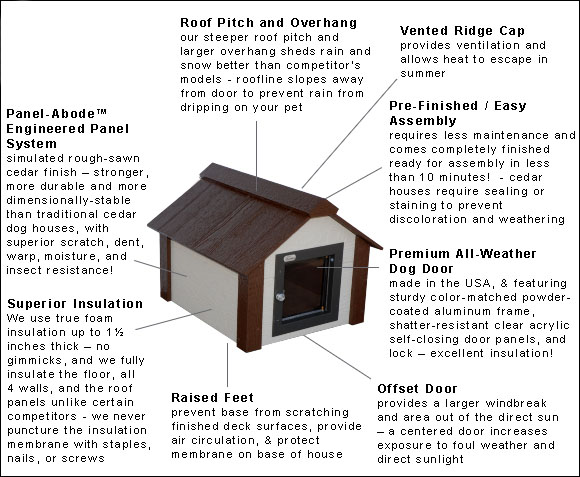 PanelAbode™ Technology for superior performance in all climates
The foundation of our patent-pending PanelAbode™ Laminated Engineered Panel System is an engineered wood panel embossed with an ultra-durable finish that closely resembles rough-sawn cedar (Made in the USA!). Our engineered wood panels are extremely resistant to moisture and insects, and are stronger and more scratch and dent proof, and far less likely to warp and/or crack than white cedar, western red cedar, pine, and fir. Moreover, while cedar, pine, and fir need frequent weather sealing to prevent them from turning grey and losing the attractiveness of their finish, our engineered panels come pre-finished for a long life with minimal maintenance.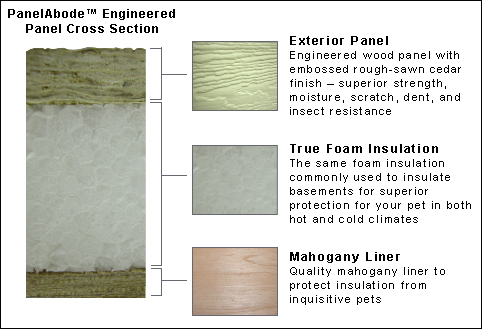 Not only do our houses contain the most advanced materials, they are engineered for extreme weather performance
To protect your cat from weather extremes, our insulated houses feature continuous true 1 to 1.5 inch (depending on house size) foam insulation throughout the floor, roof panels, and all walls. The insulation barrier is made in Canada (Canadians know insulation!) and is never punctured by nails or screws, so there are no failures in the insulation membrane that can create cold spots in the winter and hot spots in the summer. Many competitors use a thin 1/4 inch layer of insulation and some even puncture it with literally hundreds of nail and screw holes during the manufacturing process. To ensure long term durability from chewing and clawing, the insulation is protected by a furniture-grade mahogany plywood liner, which does not cause an allergic reaction like cedar. Our mahogany liner is more than twice as thick as the liner used by our largest competitor. Continuous lamination provides exceptional strength - while weighing less than 20 lbs, a side panel for our large dog house can support over 400 lbs of weight and flex only about 1/4 inch!

Simply the Best All-Weather Cat House Door
We have partnered with Plexidor Pet Doors to provide the highest quality cat door available today as a standard feature on all of our Climate Master™ Plus Series cat houses. Our cat house doors are professionally engineered and manufactured in the U.S.A. from quality materials for the optimal conmfort and safety of your cat - and of course, to be long-lasting! All Plexidor pet doors are backed by a 90-day satisfaction guarantee and 5-year warranty!
The acrylic panels are molded to form a thermo-pane effect, whereby a pocket of air is trapped between the inner and outer layers. Much in the same way a modern double-pane window is more energy efficient than an old single-pane window, the Thermo-Pane provides superior insulation to retain heat in the winter and block heat in the summer. The result is a cat door that is superior to flap style doors.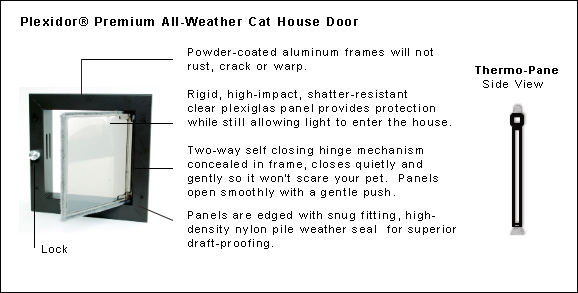 The industry's best truly removable cat house roof - Slide-Lock™
All of our houses also features a roof that can be removed in seconds without any tools! Our patent-pending Slide-Lock™ removable roof panels provide easy access for cleaning and kitten observation. Competitors' "removable" roof systems require you to unscrew the ridge cap and roof panels with a screwdriver before you can remove them - that's not very convenient!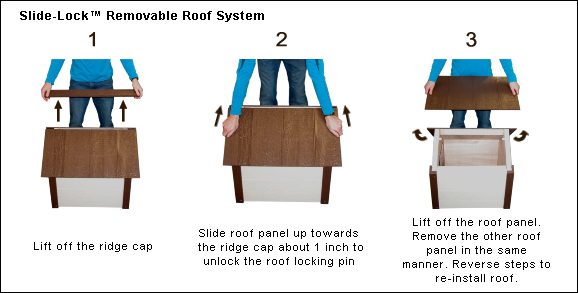 We take great pride in each and every cat house that leaves our factory. Our craftsmanship is second to none! We treat every house as if it were destined for our own cat in our backyard. Our exacting standards ensure your cat's house will last and keep him or her comfortable in any climate.
For more information about our craftsmanship, click here.