WeatherGuard Dog Kennel Covers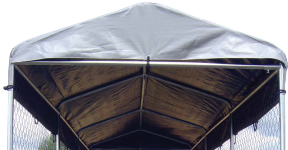 We are pleased to offer a wide range of WeatherGuard dog kennel covers to offer sun and rain protection for the comfort of your pet. They are designed to fit perfectly with any of our do-it-yourself chain link dog kennels kits, as well as our Pro Series and Classic Series modular kennels. Each cover kit includes a 100% steel frame as well as a solid all-weather fabric cover with UV protective coating. Our covers are a long lasting barrier between your dog and the weather regardless of the season or climate.
The frames of our WeatherGuard covers are subjected to a process called After Galv in which the completed 100% commercial grade steel frame and quick fit connectors are galvanized after welding. This provides rust free protection to the dog kennel cover frame and the perfect support for the fabric cover. Bungee-style tie downs are included to securely fasten the cover to your kennel.
PLEASE NOTE: Our WeatherGuard kennel covers are designed specifically to fit on our kennels as well as Lucky Dog and American Kennel Club brand kennels manufactured by Jewett Cameron. They DO NOT fit on other brands of kennels.
Weatherguard covers are not designed to take a heavy snow load. Snow should not be allowed to accumulate on the cover or damage to the fabric or frame could occur due to the weight of the snow. Replacement fabric covers are available if necessary.
We are pleased to offer substantial discounts on kennel covers when they are purchased at the same time as your kennel! After you add your kennel to your shopping cart, you will be presented with a list of possible accessories (at the special discounted price) that match your kennel, including applicable WeatherGuard covers. Of course, you can always purchase a WeatherGuard cover separately too - just select "Add to Cart" beside the appropriate cover from the list below.
---