PlexiDor Dog Door Testimonials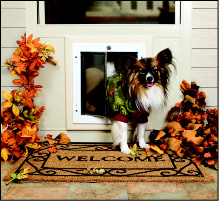 "Just want to tell you how pleased I am. After six years and all the abuse a big dog can give it, your door still works great, and it's still silent. I will definitely be ordering the PlexiDor again when the time comes."
"Though the PlexiDor comes with only a 3-year warranty [note: warranty is now 10 years!], I want to let you know how good it is: 14 years with no problems! It was the right choice then, and I think it would be the right choice for anyone who buys a Plexidor today."


"I have had your PlexiDor for several years now. Here in Las Vegas our summer heat exceeds 115 degrees. In the summer, your doors allow the entry way to remain cool and keep the dust under control."


"Just wanted to tell you how happy my dogs and I are with our PlexiDor. I feel that having the ability to 'go' whenever they need to is a big contributor to a dog's health. After all, how many of us could wait 10-12 hours a day! Our PlexiDor has allowed me to leave my dogs comfortably in their own home whenever I have to leave town. It's paid for itself many times over, saving me kennel fees, vet fees (no exposure to sick kenneled dogs) and stain damage to my house - not to mention not having to play doorman to 2 dogs in the middle of the night. We haven't had an 'accident' since they were paper trained."


"We have two Belgian Tervurens, one Doberman and one Sheltie that have kennel runs. We'd gone through 3 other doors in just one kennel because the Tervuren chewed the flaps off, then we'd have flies and hot air pouring into our outdoor kennel area. We tried everything...then we got...4 large PlexiDors. We weren't sure they'd be "Terv-proof," and the price was high, but we'd already spent that much for 3 other doors in one run and still didn't have one they hadn't chewed up. I am VERY HAPPY to report that they haven't even touched the PlexiDors except to run in and out! I normally don't write businesses but I had to let you know how pleased we are."