PanelAbode™ Engineered Panel System
PanelAbode™ technology is available on all of our insulated dog houses.
The foundation of our patent-pending PanelAbode™ Laminated Engineered Panel System is an engineered wood panel embossed with an ultra-durable finish that closely resembles rough-sawn cedar (Made in the USA!). Our engineered wood panels are extremely resistant to moisture and insects, and are stronger and more scratch and dent proof, and far less likely to warp and/or crack than white cedar, western red cedar, pine, and fir. Moreover, while cedar, pine, and fir need frequent weather sealing to prevent them from turning grey and losing the attractiveness of their finish, our engineered panels come pre-finished for a long life with minimal maintenance.
This outer wood panel is laminated to a thick layer of foam insulation and then to a high-grade mahogany liner, creating a 1 1/2 to 2 inch thick (depending on the thickness of the insulation) PanelAbode™ panel.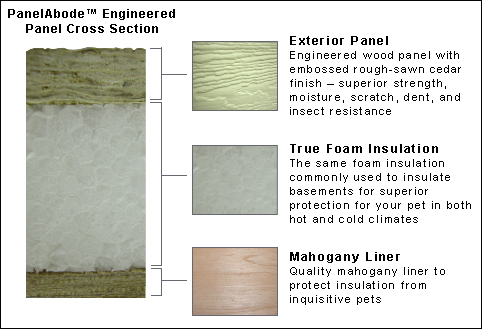 The resulting panel is extremely strong, yet surprisingly light weight. A side panel from our large dog house weighs less than 20 pounds, yet it support more than 400 lbs of weight! Moreover, the lamination creates a panel with far superior structural integrity as compared to other solid wood and even plywood alternatives.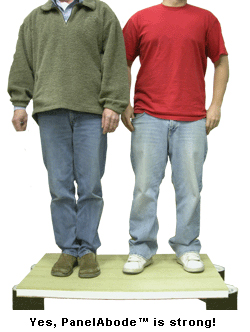 If you have any questions about our PanelAbode™ system, please do not hesitate to contact us toll free at 1-877-374-2695.