Craftsmanship - Wood Cat Houses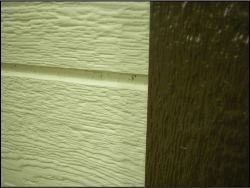 Quality and craftsmanship begin with the choice of only the highest quality materials. While many manufacturers opt for cheaper cuts of wood to reduce costs, our cat houses are made from modern engineered wood designed for superior strength and structural integrity, as well as the highest possible level of moisture, rot, scratch, dent, and insect resistance. As a result, our cat houses resist warping, cracking and splitting better than any other wood cat house, so that this will be the only cat house you ever need to buy for your pet. The engineered wood used to construct our cat houses is proudly made in the U.S.A.
Click here to learn more about the advantages of the materials used in our cat houses.
Many of our competitors use plywood, pine, Asian fir, other soft woods, or inferior grades of cedar. These woods lack the structural integrity of our engineered wood and are prone to cracking, curling, warping, moisture rot and other damage when subjected to rain and temperature extremes. Even western red cedar, commonly touted as the best wood for outdoor construction, falls significantly short of the performance of modern engineered wood.
Even worse, some of our competitors use plastics to build their houses. Plastic is a very poor choice for a cat house as it can emit volatile organic chemicals (VOCs), it lacks appropriate thermal insulation properties (too hot in summer, cold in winter), and it generally degrades and become brittle relatively quickly due to damage from UV light from the sun.
You can also be assured that the materials we use are safe for your pet. Sadly, a large number of cat houses on the market today are made in China where safety standards have recently come under scrutiny. In fact, in 2008, a major scandel involving tainted cat food from China led to the deaths of thousands of cats in North America. While some of these cat houses are inexpensive and may appear to be of fair quality, we are sure you will agree after comparing our cat houses, that we offer supperior value. And of course, you can be assured that you pet will always be safe and secure in one of our pet homes.
Our commitment to quality is also evident in our innovative designs and in the fit and finish of our houses. At each step of the manufacturing process, our houses are inspected to ensure that they meet our rigorous quality control standards. We employee modern wood cutting tools, several with digital controls that ensure the precision of our cuts. The manufacturing is carried out at our plant in Canada by experienced carpenters and finishers.
No other manufacturer of cat houses uses our patent-pending innovative features including PanelAbode™ laminated engineered panel systems, a unique insulated wall panel which is light-weight yet unbelievably strong. Not only does it offer superior insulation, it looks great too. Another innovation is our patent-pending Slide-Lock™ removable roof system which allows you to remove the roof of your cat house in seconds without any tools!
Some of the design elements of our houses may seem like small things, but we call it attention to detail. Your pet deserves nothing less than the best for its comfort and safety, and you deserve nothing less than the best value for your dollar.
Northland Pet Supply Inc. is a manufacturer - when you buy from us, your cat house is shipped right from the factory. We keep a substantial inventory of cat houses in all configurations available for shipment at all times. Most orders are shipped within 24 hours. Sadly, many of our competitors don't build your cat house until they receive your order, resulting in undue delays in you receiving your product. Northland Pet Supply Inc. is part of a consortium of companies which was named one of the top 50 fastest growing companies in the country by PROFIT Magazine in 2007. You can rest assured that will will always be available if you require any assistance in the future for any reason.
If you have any questions about our cat houses, please do not hesitate to contact us toll free at 1-877-374-2695.