All Dog Doors
> Door Mounted Dog Doors
Door Mounted Dog Doors
PlexiDor energy-efficient door-mounted performance dog doors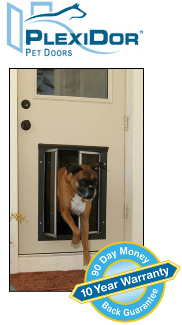 PlexiDor and BiteGuard door-mounted dog doors are professionally engineered and manufactured in the U.S.A. from quality materials for the optimal comfort and safety of your dog - and of course, to be long-lasting! All PlexiDor pet doors are backed by a 90-day satisfaction guarantee and 10-year warranty!
A sturdy aluminum frame, heavy-duty springs, and keyed locks (all models except small) are standard features for unsurpassed durability, safety, and security. The 2-way self-closing hinge mechanism is concealed in the frame and closes quietly and gently so it won't disturb you or scare your pet. Only a gentle push is necessary to open the door so it is easy and safe for your pet to use. The panels are edged with snug-fitting, high density nylon pile for a tight weather seal and superior draft-proofing. The acrylic panels are molded to form a thermo-pane effect, whereby a pocket of air is trapped between the inner and outer layers. Much in the same way a modern double-pane window is more energy efficient than an old single-pane window, the Thermo-Pane provides superior insulation to retain heat in the winter and block heat in the summer.
We offer 3 door-mounted models in a variety of sizes and colors to suit every application! Click on the picture for more information...




Door-Mounted
PlexiDor Performance
Dog Doors

All the premium features you expect in a quality dog door - industry leading draft-proofing and energy efficiency, keyed lock, sturdy aluminum frame, concealed hinges, thermo-pane acrylic panels, and unsurpassed 10-year warranty. Available in 3 colors and 4 sizes to suite every home and pet!




Door-Mounted
BiteGuard
Dog Doors

All the features of our standard performance dog doors plus added protection against dogs that like to chew! Very popular among owners of Labrador retrievers who love to chew. Also a popular choice for kennel operations and other commercial applications.





Door-Mounted
Electronic
Dog Doors

One of the most sophisticated dog doors on the market today, only opening for your pets while keeping other animals out. The key to the technology is an electronic RFID (radio frequency identification) "key" that is attached to your pet's collar. Available in white or brown and designed for dogs up to 125 lbs.


---
PlexiDor Performance Door Mounted Dog Doors
Includes interior pet door frame, exterior pet door frame, door panels, steel security plate, 2 keys and 4-way lock*, and stainless steel hardware.
(* small size does not include keyed lock)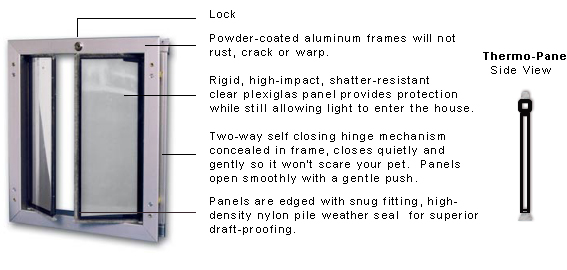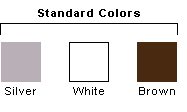 Size
Recommended For
Door Opening
Cut-Out Size
Overall Size
Price
Change your country:


Door-Mounted
Small
Cats up to 24 lbs,
dogs up to 9 lbs

Cats, Chihuahuas, Papillons, Yorkshire Terriers, Maltese, Pomeranians, & Japanese chins
6 1/2" W
x
7 1/4" H
8 1/2" W
x
8 1/4" H
10" W
x
10" H
Starting at:

CDN$215.00
Free Shipping!



Door-Mounted
Medium
Dogs up to 40 lbs

Poodles, Corgis, Dachshunds, Beagles, Pekingese, Shelties, Schnauzers, Cocker Spaniels & most Terriers
9" W
x
12" H
11 1/2" W
x
13 1/2" H
13 3/4" W
x
15 1/2" H
Starting at:

CDN$425.00
Free Shipping!



Door-Mounted
Large
Dogs up to 100 lbs

German Shepherds, Labradors, Collies, Setters, Dobermans, Dalmatians, Boxers, Pointers & Golden Retrievers
11 3/4" W
x
16" H
14 1/4" W
x
17 3/4" H
16 1/2" W
x
19 1/4" H
Starting at:

CDN$519.00
Free Shipping!



Door-Mounted
Extra Large
Dogs up to 200 lbs

Great Danes, St. Bernards, Borzois, Old Eng. Sheepdogs, Newfoundlands, Irish Wolfhounds, Great Pyrenees
16" W
x
23 3/4" H
18" W
x
25" H
20 1/2" W
x
26 3/4" H
Starting at:

CDN$818.00
Free Shipping!