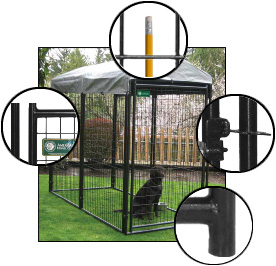 6' Tall Pro Series Modular Kennels
Starting at: US$
1230.00
Including Free Shipping
Popular Sizes:
Labrador Retriever Kennels
Sizing a kennel for your Labrador Retriever
When it comes to sizing a kennel for your lab, there really is no upper limit aside from the space you have available, and your budget. The larger the kennel, the more space your pet will have to run and play. With an active and energetic breed like a labrador, this extra space will not go to waste. The lower limit of sizes will depend a bit on your dog's personality and activity level as well as how often they are in the kennel and for how long. If your dog is only spending an hour or two in the kennel at a time then a smaller kennel such as a 5'x10' would be appropriate. If your pet is spending 8 hours a day in the kennel, we would recommend you purchase a larger kennel.
Labrador Retriever Kennel Configuration
Our modular kennels allow for a great deal of customizablity in the size and dimensions of your kennel. If your labrador is a young high energy dog then it is usually best to configure your kennel in a long and narrow layout, providing your pet with the maximum distance it can run in a straight line. If your pet is older or not energetic then a traditional square layout will also be appropriate.
Labrador Retriever Kennel Material
When it comes to choosing the material for your lab's kennel we typically recommned our black powder-coated, 8 gauge welded wire mesh, Pro series kennels. The 2" x 4" welded wire mesh offers great visibility and is very strong and durable. The black powder-coated finish also gives this type of kennel a very high end appearance.