Replacement Fabric Covers for WeatherGuard Kennel Covers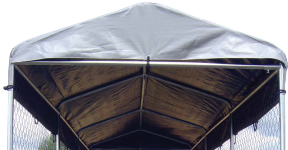 We are pleased to offer replacement fabric covers for all sizes of WeatherGuard kennel covers.
PLEASE NOTE: Our replacement fabric covers are designed specifically to fit on our WeatherGuard kennel covers as well as kennel covers marketed under the brand names Lucky Dog and American Kennel Club brand by Jewett Cameron. They DO NOT fit on other brands of kennel covers.
WeatherGuard covers are not designed to take a heavy snow load. Snow should not be allowed to accumulate on the cover or damage to the fabric or frame could occur due to the weight of the snow.
---
Replacement Black Fabric Cover for 5' x 5' WeatherGuard Kennel Cover
Product Code: CL50598
Fits 5' x 5' WeatherGuard Kennel Covers

---

Replacement Black Fabric Cover for 5' x 10' WeatherGuard Kennel Cover
Product Code: CL51098
Fits 5' x 10' WeatherGuard Kennel Covers

---

Replacement Black Fabric Cover for 5' x 15' WeatherGuard Kennel Cover
Product Code: CL51598
Fits 5' x 15' WeatherGuard Kennel Covers

---

Replacement Fabric Cover for 10' x 10' WeatherGuard Kennel Cover
Product Code: CL 10105B
Fits 10' x 10' WeatherGuard Kennel Covers

---