Northland Insulated Dog Houses
superior comfort and protection for your dog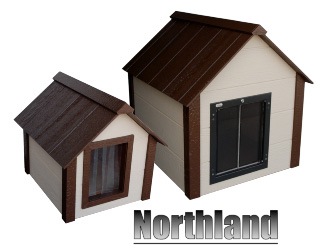 We are pleased to offer a wide range of wooden dog houses, including premium insulated dog houses, for the maximum comfort and safety of your dog based on its size and the climate in your region. Whether you are looking for an extra large or small house, one that will keep you dog cool in the summer or warm in the winter, we have a house that will meet your pet's needs!
All of our dog houses are clad with an engineered wood panel with the look and texture of rough-sawn cedar (made in the USA!). However, it has superior strength characteristics and is more dent, scratch, moisture, and insect resistant than a traditional cedar house. Moreover, our engineered wood panels come completely finished, ready for use and assembly; no painting or weather sealing is necessary.
Each house is composed of 7 pre-assembled panels (floor, 4 walls, and 2 roof panels) and is supplied with all the necessary screws and instructions for easy assembly. All that you require to assemble one of our dog houses is a power screwdriver and about 5-10 minutes of your time.
We presently offer two models in four sizes:
---
Northland Climate Master™ Insulated Dog Houses

Our popular Climate Master™ Series insulated dog houses were designed for maximum pet comfort. Featuring our PanelAbode™ Laminated Engineered Panel System, the Climate Master™ provides unsurpassed durability, insulation, and comfort. A thick seamless layer of true foam insulation ensures each panel is sealed from weather extremes. Of course, our Climate Master™ houses also feature our patent-pending Slide-Lock™ removable roof system, raised feet, premium vinyl flap offset doors, vented ridge cap and more! Available in 4 sizes. Whether it be the heat of Arizona or the frigid cold of Alaska, this house is up to the task of protecting your pet!
---
Northland Climate Master Plus™ Insulated Dog Houses

Our Climate Master Plus™ Series dog houses take the level of protection even higher by combining our Climate Master™ insulated dog house and the industry's leading all-weather pet door; this partnership creates a house with incredible protection from the elements. The door is professionally engineered and manufactured in the USA from the finest quality materials including a powder-coated color-matching aluminum frame, twin shatter-resistant clear acrylic self-closing door panels, and a lock. The ultimate in comfort and protection for your pet!
---
Compare our dog house models: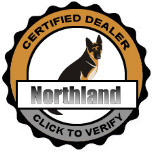 PanelAbode™ Engineered Panel System
True Foam Insulation
(Roof, Base & Walls)
Slide-Lock™ Removable Roof
Vented Ridge Cap
Raised Feet
Pre-Finished
10 Minute Assembly
Heavy Duty Vinyl Flap Door
-
Premium Locking
All-Weather Pet Door
-
House Price (US$)
Starting from:
US$199.95
including shipping!
Starting from:
US$329.95
including shipping!
House Price (CDN$)
Starting from:
CDN$229.95
including shipping!
Starting from:
CDN$379.95
including shipping!
We take great pride in each and every dog house that leaves our factory. Our craftsmanship is second to none! We treat every house as if we were building it for our own pet. Our exacting standards ensure your dog's house will last and keep him or her comfortable in any climate. For more information about our craftsmanship, click here.