PlexiDor Dog House Doors
Simply the best all-weather dog house door on the market today
We have partnered with PlexiDor Pet Doors to provide the highest quality dog door available today as a standard feature on all of our Climate Master™ Plus Series dog houses. Our dog doors are professionally engineered and manufactured in the U.S.A. from quality materials for the optimal comfort and safety of your dog - and of course, to be long-lasting! All PlexiDor pet doors are backed by a 90-day satisfaction guarantee and 10-year warranty!
The acrylic panels are molded to form a thermo-pane effect, whereby a pocket of air is trapped between the inner and outer layers. Much in the same way a modern double-pane window is more energy efficient than an old single-pane window, the Thermo-Pane provides superior insulation to retain heat in the winter and block heat in the summer. The result is a dog door that is superior to flap style doors.
Our PlexiDor all-weather dog doors not only work better than any other dog house door, they look great too!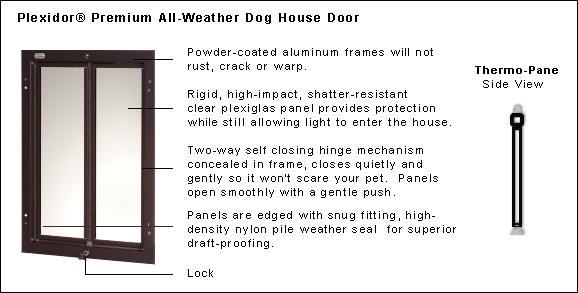 With the exception of the small PlexiDor on our small cat / dog house, all of our all-weather PlexiDor upgrades come in a twin panel design, and the panels open to the side rather than up / down. This makes entry a lot more comfortable for your pet and decreases the amount of time needed for your pet to become comfortable using its new dog house door.
If you have any questions about our PlexiDor dog house doors, please do not hesitate to contact us toll free at 1-877-374-2695.